BDOS has a self-contained checkbook which is fully integrated with the general ledger. Payments can be expensed directly or written to relieve a payable. The BDOS check is formatted to accommodate your existing check stock.
Checkbook – Draft Check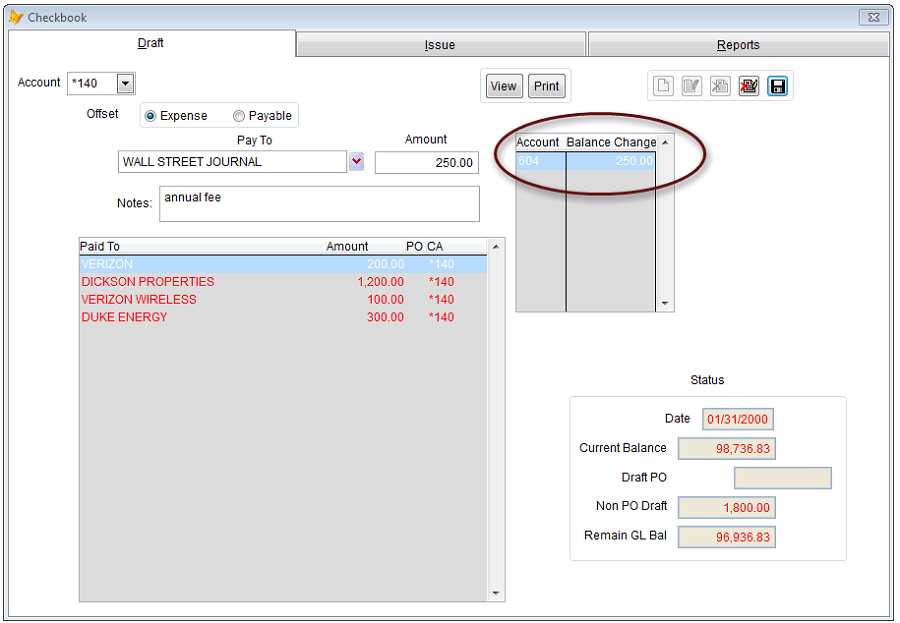 A drop down is used to show the payee and the account that will be charged. If desired, you can attach descriptive notes. The above form identifies a check to the Wall Street Journal and indicates an expense account EXP 604 Newspapers is debited.   BDOS allows up to 20 cash accounts. In this example, your cash account CA *140 Cash-Operational will be credited .
BDOS simply reduces the cash by $250.00 and increases the expense by the same amount.  The general ledger entries for the draft check, once issued, are shown below.

 As noted  earlier, a competent clerical person can use BDOS.  It takes care of the debiting and crediting automatically, and does not require any significant accounting or book keeping skills.
Checkbook Register Reports
Register reports include checks that are in draft stage, issued, open and cleared. These can be sorted by date, check number, payee or account.
BDOS also has internal cash reconciliation procedures. Reconciliation reports are saved for an indefinite time.